The search for great fitting petite shorts led me to Armani Exchange and their size p0. I've had some good luck with dresses in that tiny size, so I thought I'd give their shorts a try. So let's start with my favorite, the striped short, shall we?

On me in it's natural state. Pay close attention to the…um…extra fabric in the crotch….
These sat a bit low on my hips, which means the crotch is way too low, hence the major sagging and bagging. These shorts are pleated, so I expect some volume in that region, but the poof is too much for my liking. Also, because the crotch is so low, when I walk in these, the shorts poof and pocket in all the wrong places.
Here are the shorts sitting naturally vs. sitting higher on my hips after pinching about 1.5 inches of fabric at the waistband:
If these were to be taken in to sit where I have them in the photo on the right, they would actually be really cute! I like the nautical pattern and red thread details, but could live without the cheap looking silver buttons. The fabric is also pretty thick, which means no embarrassing see-through. I'm not sure if I want to keep these and alter, but wouldn't they look great with a pair of Sperry's?
Verdict: Probably return. They're cute, but I don't love them, so I don't want to invest the money in tailoring.
Next up, the Piped Shorts:
On me, in their natural state:
Again, these sat low on my hips, and are pleated, so there's some volume adding to the bagginess in the crotch.  To get the shorts to sit in the right place, I'd have to take in about 1.5 inches. I'm not too keen on the dolphin short style of these (I felt a little like Suzanne Somers from Three's Company), and the fabric was pretty thin, so there is major opportunity for see-through.
Where they sit naturally vs. taking in the waist: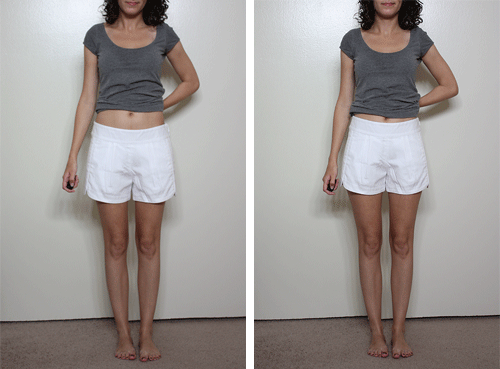 Verdict: Return. Between the thin fabric, 80's details, and need for tailoring, I don't like these at all.